购物 (ɡòu wù) Shopping in China
One thing you may like when you come to China is the shopping: souvenirs, featured local products, special gifts and all that you want to bring back to your friends and families. But don't forget to bargain when you buy things in China! Everywhere you go, bargaining is never a shame, though sometimes it can be a little annoying and takes lots of time.
In this dialogue, you will learn how to bargain the price down in Chinese and pick up useful expressions for buying things in China.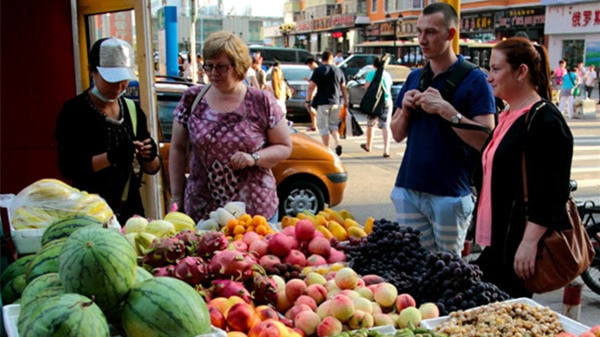 对话(Dialogue)
nín yào mǎidiǎn'r shénme?
A:您 要 买点儿 什么?
What do you want to buy?
wǒ yào mǎi yìxiē pínɡɡuǒ, duōshǎoqián yìjīn?
B:我 要 买 一些 苹果,多少钱 一斤?
I want to buy some apples. How much are they?
sìkuàiqián yìjī.
A:四块钱 一斤。
4 RMB per Jin.
tài ɡuìle, nénɡ piányi diǎn'r mɑ?
B:太 贵了,能 便宜 点儿 吗?
It's too expensive. Can you give me cheaper?
sānkuàiwǔ zěnmeyànɡ?
A:三块五 怎么样?
How about 3.5 RMB (per Jin)?
hǎo, wǒ yào èrjīn.
B:好,我 要 二斤。
Okay. I want 2 Jin.
Chinese money is called RMB, literally People's Money. The units for RMB are "元" yuán (块 kuài in spoken), "角" jiǎo (毛 máo in spoken) and "分" fēn.
1 元 = 10 角 = 100分
生词(New words)
New Words
Meaning
Sound

mǎi

买

to buy

diǎn'r

点儿

a little

jīn

斤

a unit of weight

ɡuì

贵

expensive

piányi

便宜

cheap

kuài

块

kuai