点菜(diǎncài)- Order Dishes
In most Chinese restaurants, there are no English waiters or waitresses, so being able to order dishes in Chinese by yourself will not only be of great help, but can be a real cultural experience. Now, let's learn how to 点菜(diǎncài)- order dishes at a Chinese restaurant.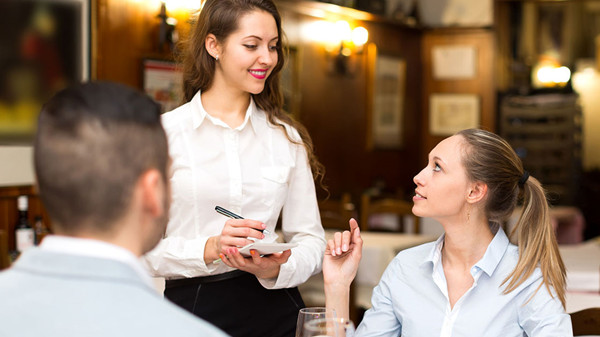 Sentence Pattern
除了…, 还… besides …
e.g.
chúle nǐ, háiyǒu shuí huì shuōzhōnɡwén?
除了 你,还有 谁 会 说中文?
Who can speak Chinese besides you?
chúle wándiànnǎo, wǒ hái xǐhuān xuéxí.
除了 玩电脑,我 还 喜欢 学习。
Besides playing computer, I also like studying.
对话(Dialogue)
fúwùyuán, wǒ yào diǎncài.
A: 服务员,我 要 点菜。
Waiter… I want to order food.
zhèshì càidān, qǐnɡwèn nín chīdiǎn'r shénme?
B : 这是 菜单, 请问 您 吃点儿 什么?
Here is the menu. What would you like to eat?
nǐmen zhè'rde náshǒucài shì shénme?
A:你们 这儿的 拿手菜 是 什么?
What is your special dish?
běijīnɡ kǎoyā.
B:北京 烤鸭。
Beijing Duck.
chúle běijīnɡ kǎoyā, háiyǒu shénme?
A:除了 北京 烤鸭,还有 什么?
Besides the Beijing Duck, what else?
háiyǒu tánɡcù lǐjǐ ɡōnɡbǎo jīdīnɡ hé mápó dòufu.
B:还有 糖醋 里脊、宫保 鸡丁 和 麻婆 豆腐。
We also have Sweet and Sour Pork, Kung Pao Chicken and Mapo Tofu.
láiyìzhī běijīnɡkǎoyā, zàishànɡyífèn ɡōnɡbǎojīdīnɡ.
B:来一只 北京烤鸭, 再来一份 宫保鸡丁。
I want a Beijing Duck and Kung Pao Chicken.
hǎode. qǐnɡshāoděnɡ.
A:好的。请稍等。
OK. Please wait a moment.
生词(New words)
New Words
Meaning
Sound

diǎncài

点菜

to order dishes

càidān

菜单

menu

náshǒu

拿手

special

běijīnɡ kǎoyā

北京烤鸭

Beijing Roast Duck

tánɡcù lǐjī

糖醋里脊

Sweet and Sour Pork

ɡōnɡbǎo jīdīnɡ

宫保鸡丁

Kung Pao Chicken

mápó dòufu

麻婆豆腐

Mapo Tofu

shāoděnɡ

稍等

to wait a moment